!hand coded by Ruthie Augustein">


In 1999 I contacted Sela and gave her the address to my sample web page. She liked it and offered her assistance. I finally got to meet her in March of 2002. I spent a couple of days in L.A. and the first day was spent at Universal Studios courtesy of Sela. The park is HUGE with so much to see...I think it would take a week to actually experience everything. They even had Animal Planet there but that day there weren't any animals. My friend Paula and I enjoyed the Jurassic Park ride...we were soaked at the end...the warm L.A. sun had us dry within an hour. The day ended at Wolf Gang Pucks as guests of Sela. It was a new experience for me...I was a vegetarian so I ordered a cheese pizza. It turned out not to be what you would expect. It didn't resemble what we know of a pizza. A crust with slices of tomatoes and generous drops of various cheeses...it was delicious. I recommend this to anyone who has the opportunity to visit the restaurant. Sela wanted me to see more sites like the walk of fame...I declined..I will see it when Sela gets her star.

The next day we arrived at the set of Once and Again around 10 am. We went up to the offices to let them know we were there. A really nice lady then escorted us to Sela's trailer. They were filming inside and we had to wait for the flashing red light to go off. Once that was off we were taken to "Rick and Lily's" bedroom. Some of the actors chairs were set up for us. They had Sela's ready for me. Sela was in filming a scene with Bonnie Bartlett from the episode Losing You. When there was a break in filming Sela came out to meet us. I was watching the monitor and didn't realize she had come into the room until I heard her say my name. I looked up and she was in front of me ready with a hug. I then introduced her to my friend and she welcomed her.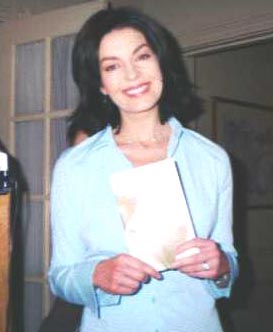 Sela is holding a book called Gift From The Sea...a gift from TLilyW..Amy.



We were shown around the entire set and took some photos. We were shown where the refreshments were and how to tell when it was okay to open the door to the outside..which was anytime the red light wasn't flashing. We were allowed to walk around and do what we wanted. We spent time outside when Sela wasn't filming. It was fun to see how many people were involved in the making of a television show.

I think what most people would find interesting is how Sela can slip in and out of character so easily. One minute I was sitting there talking to Sela and the next she was on the sound stage and she would turn into Lily right before our eyes. She also seemed to have a photographic memory. She never had to refer to the script. They hand out little booklets with that days shoot. She looked over it while in makeup early that morning and that was all she needed. She never missed a beat!

The other cast members were very nice and welcoming. Her co-star Billy Campbell escorted us to lunch. They had an area with a lot of picnic tables for cast and crew to use...the caterers had an unbelievable assortment of food to pick from..but what really caught my eye was the table full of fresh fruit...being from Ohio...and being early March...that was a real treat...fresh fruit isn't as easy to come by at that time of year!

Billy Campbell was a funny man..very quick witted. I enjoyed a moment when I managed to get him. I asked him if he was married....he was funny while getting to what I knew the answer to be and that is no...I then asked him if he wanted to be in a tone that was more of an invitation than a question...I wish I had a photo of the smile on his face...I had got him and he walked right into it LOL...oh in case you are wondering...he didn't accept my proposal but was gentleman enough to say it wasn't personal :-)

The sun was beginning to set and I felt it was time to go..I had to catch an early flight home the next day. We said goodbye in Sela's trailer. The clock began to tick and my chariot was soon to turn back into a pumpkin.

I felt a lot of acceptance that day. I am usually very self conscious but that day all of that left me. Sela really has a way of putting people at ease. It was an adjustment coming back home. A small midwest town is a far cry from Los Angeles. For a couple of days I was able to forget about all the stresses and responsibilities. It was such a gift!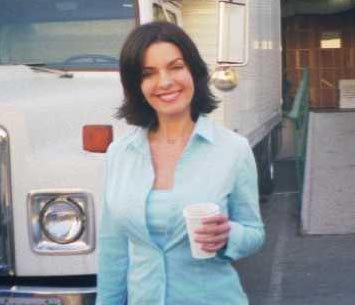 Many of you have asked what it is like to do this site and work with Sela. My love of web design only comes second to my love of animals. Go to rescues to read how Sela supported my work with animals. Something I never expected is my friendship with Sela. That was a special gift. She has a understanding way about her and she seems to always know what to say.

Many of you have shared so much about yourselves with me. A trust I don't take lightly. It is amazing how much so many of Sela's fans have in common. The final question I will answer by sharing with you some things about me...you will find many of us have a lot in common!

The most frequently asked question..."Why did you pick Sela?" I picked her at first because I loved her work. Teddy Reed on Sisters, as screwed up as that character was...she was strong. I am the first to admit I have some issues...and characters like Teddy were a comfort at important times in my life.

I have never stayed with a web site very long..I have been doing them since 1997... I have stayed with Sela for several reasons. She respects me even after being told by others "in the business" that I am not worth it. Her greatest acknowledgement of me was putting this webpage address on the jacket of her book Homesick. The message I am getting... the more you are paid, the more you are worth. But Sela isn't like that...she gave me the most special gift when she promised me...to trust that I have a safe space with her...and yes, I believe her. Sela also does something I have never seen before...she saw children hurting and did something about it by creating Hope Village For Children. Without getting too personal.. it was therapeutic for me to see someone..especially a woman....care about children being abused.

I am enjoying this Internet journey. Most of my time is spent with previously abused animals. The rest of my time with this web page. My animals experienced the worst side of human nature. Something I can relate to..so I know how to heal them. I see the best side of human nature in my work on the site..the fans are very warm and welcoming and Sela always supportive...but my personal life hasn't changed...there are still some very hard days when I am not sure I am going to make it. I have to make this point..since many fans have said they feel meeting Sela will complete their lives...as wonderful as Sela is...she can't do that for you. Nor can any other celebrity...so make sure if you want to be a webmaster...you go into it for the right reasons. To support the career of someone you believe in and want to help.

* Okay time to give credit: Special thanks goes out to Paula for traveling with me to California. JackieS...my sister Sue and my friend Sara for the help they gave me for the trip. To Gail for helping me get the parrot report together...to Gail and Barb, thank you for your webmaster wisdom. I hope I get to meet you both one day. Last but not least... thanks to Sela, Howard, JackieM and Joe..for all you do and continue to teach me.