!hand coded by Ruthie Augustein">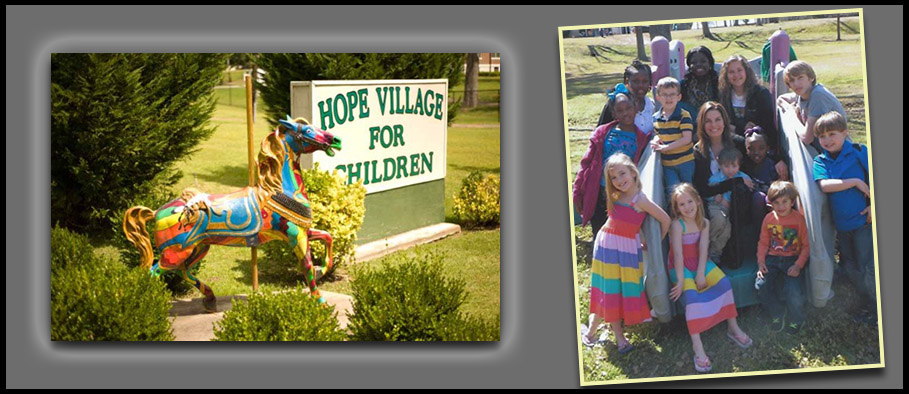 Sela's Hope Village Foundation has been formed to aid abused and neglected children. Sela opened the foundation on Dec. 27th, 2001 in Meridian Mississippi. Sela was even on hand before the opening...among other hands on work...she painted some canvases for the walls. Hope Village in Meridian is a state-of-the-art campus, and will be a blueprint for something that doesn't exist in our country. Sela wants to expand Hope Village across the country....to create safe nurturing environments everywhere, not just in Mississippi.

Hope Village is housed in an old Masonic Home which has been turned into a new residential care facility with five cottages. The work of Hope Village will revolve around a system of a rotating staff of case managers, cottage supervisors and direct care workers. Each will have specific levels of personal interaction with the children.

Hope Village for Children will provide the following services.
" Emergency Shelter will provide immediate residential short-term care for abused or neglected children. Stay is usually less than 45 days while decisions are made for appropriate permanent placement.

" Transitional Residential Care will allow a child to remain in the same location until a permanent home can be found or until a child can be returned to the family. This service does not have the time restraints incumbent on emergency care.

" Residential Group Homes will provide a permanent home for children who do not thrive in foster care and who cannot be returned to the family. This service will be offered until a child reaches adulthood and will include the opportunity for a college education.

" Foster Care Recruitment and Training will provide the opportunity for children to be reared in a traditional home environment.

" Therapeutic Group Homes will provide residential care for children who suffer from serious emotional and psychological trauma brought on by their abuse/neglect. This service could average anywhere from 6-18 months and will depend on the needs of the individual child.

" Therapeutic Foster Care Recruitment and Training will provide the opportunity for children who suffer from serious emotional and psychological trauma brought on by their abuse/neglect to receive therapeutic care in a traditional home environment. The benefits of providing a continuum of care on one campus include the following aspects which are crucial to breaking the effects of the negligence and abuse our children have experienced.

" Permanency: Children no longer in need of therapeutic care will be allowed to transition to residential care without being uprooted from home, staff, schools, friends, and family.

" Keeping Sibling Groups Together: Often sibling groups who have been abused or neglected are separated due to inadequate facilities. Separating siblings causes further trauma and psychological damage. One campus with a variety of services and the capability of caring for various ages and numbers of siblings will alleviate this upheaval.

" Meeting Educational Needs: Most of the children coming to Hope will have a deprived educational background. Hope will act as an educational advocate for these children as they move into a more permanent residential and educational setting. Educational needs will be assessed and the staff of Hope will ensure that all appropriate services are provided through tutoring, remedial studies and by utilizing all available resources in the community.

" Psychological and Medical Care: Abused children are commonly in need of psychological counseling. When moved from place to place, they will, out of necessity, see multiple psychologists, making successful therapeutic sessions unlikely. The Meridian area offers a wide variety of medical and psychological resources and specialists. The importance of a physician having a complete health history of these children and having the opportunity to develop a relationship with the child cannot be overstated. Children at Hope will have the opportunity to develop continuing relationships with medical and psychological specialists in a safe and secure setting that will lead to the development of trust-based, productive relationships.

" Improved Socialization Skills: Social skills development is delayed in many abused children. Moving the children from place to place has a tendency to exacerbate the problem. Time is required for trusting relationships to develop and without these relationships, children often feel isolated and alone. Children at Hope will have the opportunity to develop long-lasting relationships that will lead to mature and productive relationships.

" Family Reunification: If reuniting the child with the family is the agreed upon goal, working with parents is imperative. With children scattered at various facilities, this effort is complicated. Most families do not have the means to continue relationships with children who are geographically separated. Hope will provide numerous avenues of support to parents, including parenting classes, support groups and respite care.

" Development of Quality Foster Parents: An active recruitment program for enlisting foster parents to provide both regular and therapeutic foster homes will be an integral part of Hope's services. Potential parents will be provided extensive training and support, both through formal classes and in the home setting, by qualified staff to ensure that placement of children in the homes will be successful.


Children will receive the care and compassion they need to heal and grow. This home will allow them to stay as long as they want or until the age of 18. There is a special memorial for Sela's mom..if you would like your donation to be used in her memory... please add a note saying in memory of Annie Kate Ward... If you would like to take part in this project, monetary donations need to made out to:

Hope Village
P.O. BOX 26
Meridian MS 39302

Or Donate online at:
Hope Village For Children Site

1 in 5 girls and 1 in 7 boys are sexually assaulted by the time they reach the age of 18. The number of children who die every year from child abuse, breaks down to about 3 EVERY day. Child abuse occurs in every age group, every race, every religion and every economic group. No community is untouched.
If you suspect abuse please call the police or local child protection agency, if you need help call 1-800-4-A-Child (1-800-422-4453). One phone call may literally save a life!