!hand coded by Ruthie Augustein">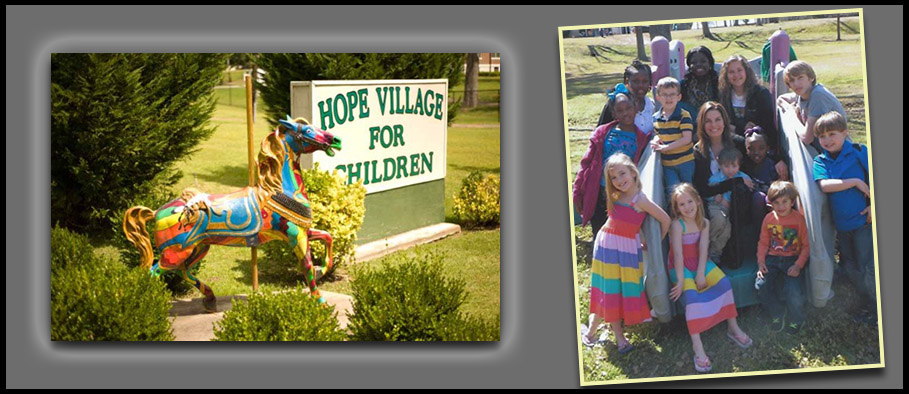 FROM FOUNDATION OFFICIAL SITE:


Hope Village for Children was founded in June 2000 by actress Sela Ward, a Meridian native, with a vision to "lead each child to a place where hope is born." In our first five years, we have seen that vision become a reality. Each child who comes to us has been removed from his or her primary caregiver's custody by the Mississippi Department of Human Services due to abuse, neglect, or abandonment. The Hope Village campus consists of an emergency shelter for children ages birth to eighteen, three cottages licensed as long-term therapeutic residential facilities for children ages twelve to eighteen, and two transitional homes. Our emergency shelter has the capacity to provide care for up to twelve children each night, each residential cottage has the capacity to care for up to ten children each night, and the transitional homes have the capacity for eight young adults.

In 2014, Hope Village served over 145 children.
A few years ago Hope Village for Children extended its services to include our transitional residential program. This program was implemented to serve the children in our care who "age out" of the foster care system, but who choose to remain in our care. The transitional homes provide these young adults with the opportunity to experience living in a less structured environment than a group home while also providing support and supervision so that they will be prepared to navigate the "real" world upon leaving the foster care system.

Each child who arrives at Hope Village is given appropriate medical, dental, and psychological care for the duration of his or her stay. Every child is also enrolled in a local public school or in an accredited GED program and is provided with tutoring services each weekday in order to facilitate educational success. Our children are also taught independent living skills so that, upon maturity, they may become happy, healthy, and productive citizens.

Our children are eager to continue their education, secure stable employment, save for their future, and acquire essential skills for independent living. Hope Village for Children wants to guarantee that they have the opportunity to accomplish these goals.

Without the services of Hope Village, the children who come to us would likely spend many years traveling through the foster care system without any place to call home. Hope Village becomes their home, and our staff, volunteers, and residents become their family. We are committed to these children when almost everyone else has given up on them. We are their hope.

. Hope Village
P.O. BOX 26
Meridian MS 39302

Or Donate online at:
Hope Village For Children Site

1 in 5 girls and 1 in 7 boys are sexually assaulted by the time they reach the age of 18. The number of children who die every year from child abuse, breaks down to about 3 EVERY day. Child abuse occurs in every age group, every race, every religion and every economic group. No community is untouched.
If you suspect abuse please call the police or local child protection agency, if you need help call 1-800-4-A-Child (1-800-422-4453). One phone call may literally save a life!